charlotte Dale, gbr
| | |
| --- | --- |
| Full Name: | Charlotte Dale |
| Born: | 23/03/84 (Canterbury) |
| Height: | 1.56m |
| Weight: | 46kg |
| Event: | Long Distance |
| Club: | Invicta East Kent AC |
| County: | Kent |
| Coach: | (Advised by) Alan Storey |
Personal Bests:
1500

4:29.46

26 Aug 2001

London, GBR

10km

33:10.6

20 Apr 2002

Stretford, GBR

5km

15:58.8

12 May 2002

London, GBR

3km

3km

5kmR

9:17.61 (mixed)

9:25.04 (f)

16:38.

10 June 2002

18 May 2002

2 Sept 2001

Watford, GBR

Loughborough, GBR

London, GBR
| | | | |
| --- | --- | --- | --- |
| 10kmR | 33:10.05 | 6 May 2002 | Whitstable, GBR |
-1998
Charlotte began training with Invicta East Kent AC when she was eleven years old. She wasn't keep to begin with, just tagged along with her older sister, Lizzie. Both Dale girls trained with a coach called Colin Tomlin. In 1996 Colin died, just after Charlotte won one of her first races, the Under-13 600m Kent Championship.
Charlotte trained with some other coaches, until they joined James Robert's squad. Following this Charlotte won a number of Kent Championship titles including; 600m, 800m and 1500m and went with his squad to cross country meetings for the County and English Schools.
1999
She was 18th in the Intermediate Girls Cross-country race at English Schools at Luton in 1999.
Charlotte then became ill with an eating disorder and was made to stop running and was in hospital for several months.
2000
In 2000 Charlotte had won the AAA U17 1500m title in a personal best time of 4:30.87 and ran the fastest 3000m times by a British under 17 that year with 9:35.25 and 9:34.9 in a mixed race.
2001
In 2001 she was 2nd in the AAA U20s and won the English Schools Track and Field (Exeter) title at 3000m before making her junior international debut at 3000m against France.
English Schools Track and Field Championships 2001 (1st,Senior girls 3,000m)
With Louise Damen, Hampshire (from Dorset)
She then ran 16:38 for 9th in the Hyde Park 5km and clocked a startling 33:31 at Ashford in October (much the fastest by a British 17 year-old), to rank 6th in the British road lists for 10km in 2001. She was then a runaway winner of the Junior race at the first Reebok Cross-Country race of the season, as she won at Birmingham by 53 seconds and won again in the trial race at Margate. She led the British junior team to silver medals with a brilliant fifth place at the European Cross-Country Championships.

2002
Charlotte started 2002 in brilliant style by winning the Kent junior cross-country by the astonishing margin of over 5 minutes, a junior international race in Lisbon by 24 seconds and the U20 Trials CC by 62 seconds.
She won the European junior Cross-country in Edinburgh.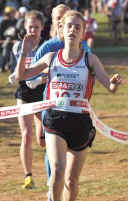 Charlotte won the U20 Reebok Cross Challenge Series and fared brilliantly against seniors when 2nd at the World 4k Cross-Country Trials. She took the lead early in the race, but suffered cramp in her calf and fell back to 31st on her 18th birthday in the World Junior Cross-Country.
Nottingham Inter-counties - Despite putting on another version of her one-woman wonder show – her first having come at Cardiff in the Reebok Cross Challenge meeting last month – Dale confessed afterwards: "I was still nervous about the race. My calves have been troubling me and my back's been tight. But once I got into the race, I just tried to get away from the pack." The ploy worked devastatingly: within 2km, she was 100 metres clear of a fascinating battle to impress the selectors, which have now invited the top eight to a Preparation Squad Weekend.
Dale plans to run the UK 4km Championship at Brighton, having opted against running the Senior Women's race in Wollaton Park. Instead, she went off to do a hill training session, explaining: "I usually do hills on Saturdays, so I thought I might as well."
She made a brilliant track debut at 10,000m to win at Stretford in 33:10.6 to smash the British junior record and her first 5000m, at the Kent Championships, took her to 4th on the UK junior all-time list with 15:58.8. She also ran 33:05 and 33:06 for 10km on the roads and ended the year with a magnificent front-running victory at the European Junior Cross-Country in Croatia, leading the British to team victory.
2003
Now training at St. Mary's College in London, she won the Reebok cross-country challenge series for juniors in 2002/03. She won her first race of 2003 in devastating style, as Charlotte Moore was second 1 min 16 sec behind her in the junior race at Cardiff, and she was a clear winner (by 48 seconds) of the CAU U20 cross-country.
Racing against seniors she was then second in the World Cross-Country 4k Trial race in Stamner Park, Brighton, before another fine run as she was the first European finisher in the World Junior Cross-Country, although outpaced by thirteen Africans.
LAUSANNE - MARCH 29: Charlotte Dale of Great Britain in action during the women's junior race at the 31st IAAF World Cross Country Championships held on March 29, 2003 at La Broye in Lausanne, Switzerland. (Photo by Ian Walton/Getty Images)
She broke her own British Junior record when 16th in the European 10,000m Challenge in 32:52.60 and was 5th in the Manchester 10km road race in 33:10. She took the European Junior bronze medal at 5000m in 16:07.26.
She was second in the Great South Run in October, finishing in 54:28, behind Sonia O Sullivan.
| | | |
| --- | --- | --- |
| Charlotte is the short one about 7th from the left | | |
| | | |
"Didn't she run brilliantly," said O'Sullivan of Dale, "Charlotte's so small, I'm surprised she wasn't just blown over," added O'Sullivan, who has been lending the European junior cross country champion from Kent lots of advice at their weekly training sessions.
Certainly Dale appears to be a quick learner. Showing no ill-effects of her windy battering, she said: "I really enjoyed the race. It was my first ten-miler and I want to do more."
Finishing 31st overall in the mixed field and two positions ahead of Liz McColgan in the women's results, Dale 19, said: "I had an upset stomach before the race but once I got started it went away and I really enjoyed it."
It makes her the third-fastest in the UK behind Paula Radcliffe (Bedford and County AC) and Kathy Butler (Windsor, Slough, Eton and Hounslow AC) in this year's Senior Women's rankings.
Dale said after her longest race so far: "My legs kept cramping and I had an upset tummy before the race, and I was worried I was a bit dehydrated. So I had to have some physio just before the race. It was quite windy out there, too, so I was happy to get under 55. When I started off, Liz was just in front of me. Then Natalie was running with me up to about five miles, but I think I pulled away from her after that. I could just about see Sonia on the last straight."
O'Sullivan summed-up the problems: "I felt like a boat out in the ocean. The wind was so strong that at times it was difficult to keep my mile splits under six minutes. There was more than a minute differential between miles with the wind behind you and those with it against you."
Charlotte took the bronze medal at the European cross-country championships in Edinburgh in September.
"Charlotte takes the Junior bronze"
The Great Britain team also managed to take the team gold medal.
2004
Charlotte was 6th in the Junior/Senior/International/Veteran Women's race at the Reebok Challenge in Belfast, in a time of 19.36.
Charlotte Dale in Belfast
1500m:
2000 -

Gold

,

AAAs U17, 4:30.87 (PB)
3,000m:

2000 - 9:35.25 (PB)

2001 - Silver, AAAs U20s

- Gold, English Schools Track and Field, Senior Girls, Exeter
5,000m:

2002 - Gold, Kent Championships, 15:58.8 (NJL**-4th)

2003 - Bronze, European Junior Championships, 16:07.26

10,000m:

2002 - Gold, Stretford, 33:10.6 (NJ*)

2003 - 4th, European 10,000m Challenge, 32:52.60 (NJ*)

5kmR:
2001 -

4

th

, Hyde Park 5km,

16:38
10kmR:
2001 - (October)

6th( on national ranking)

, Ashford, Hyde Park 5km,

33:31

2002 - 33:05

- 33:06

2003 - 4th, Manchester 10km Road Race, 33:10

10MR:
2003 -

Silver

, Great South Run, Portsmouth 54:28

Cross-country:

1999 - 18th, Intermediate Girls, English Schools Cross-country, Luton

2001 - Gold, Junior Race Reebok Cross-country, Birmingham

- Gold, Trial Race, Margate

- 5th (team Silver), European Junior Cross-country Championships

2002 - Gold, Kent Junior Cross-country

- Gold, Junior International, Lisbon

- Gold, UK U20 Trials

- Gold, U20 Reebok Cross Challenge Series

-(February) Silver, World 4km Cross-country Trials

-(March) 31st, World Junior Cross-country

-Gold (team Gold), European Junior Cross-country, Croatia

2003 -Gold, Junior Race, Cardiff

- Gold, Junior Reebok Cross Challenge Series

- Gold, CAU U20 Cross-country

-(February) Silver, World 4km Cross-country Trials, Brighton

-(March) 14th (1st European), World Junior Cross-country

- (Dec.) Bronze (team Gold), European Junior Cross-country, Edinburgh

2004 - (Jan.) 6th, Reebok Challenge, Belfast, 19:36
* NJ - National Junior record
**NJL - National Junior All-time list
Back to About the Athletes Home