London Mini-Marathon
Youngsters between 11-17 years of age can also get in the act by taking part in the mini marathon or the mini wheelchair race.
The race began for children who lived in the 36 London Boroughs, but in 2001 was opened to county teams to enter individuals who performed well at their National Schools Cross Country Championships.
It now runs as 3 races, with 6 winners - a County and Borough athlete from each category. The Borough athletes start ahead of the County runners.
Categories:
11-12 Boys

11-12 Girls

13-14 Boys

13-14 Girls

15-17 Boys

15-17 Girls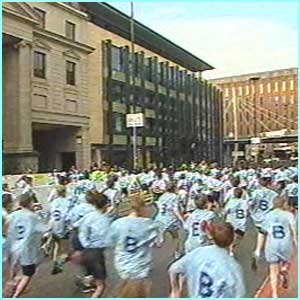 Borough athletes wear T-shirts with the letter 'B', while County athletes wear T-shirts with the letter 'C', in different colours, so that the athletes are easily distinguishable. They go into different finishes in the Mall.
More than 2,000 children take part in the Adidas Mini London Marathon, which is run over the last 2.65 miles of the course, starting at Victoria Embankment and finishing in The Mall.