26th November 2003: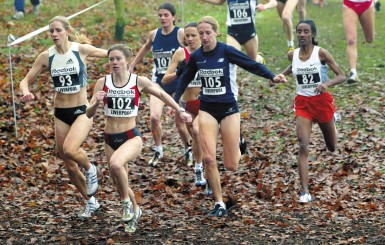 BACK in January, Jo Pavey trailed in a disappointing ninth in the View From Great North Cross at Newcastle's Exhibition Park.
Looking particularly uncomfortable in the icy conditions, she declared cross country was 'like a completely different sport' and many suspected the outing was very much a one-off rather than the norm.
Yet ten months later the world 1500m finalist conquered the flat, fast cross country course at Liverpool's Sefton Park to end Hayley Yelling's six-race winning streak against domestic athletes in the Reebok Challenge.
It has been a great year for Pavey, who switched from the 5000m to reach the final of the 1500m at the World Championships - and she has again proved her versatility to perform on the country.
The race was pretty much a two-woman affair for the second half of the race, as Yelling sought desperately to maintain her winning Reebok Challenge streak and Pavey hung grimly on.
But Pavey's superior speed in the latter stages paid dividends and she ran out a winner by six seconds.
"I'm more surprised than anyone," Pavey modestly added of her victory. "I didn't know how I would run and I didn't want to get my hopes up, but a lot of it was down to the conditions and fortunately it wasn't too sloshy."
RESULTS:
Senior Women: 1 18.30 Jo Pavey (exceter Harriers); 2 18.36 Hayley Yelling (England); 3 18.53 Kathy Butler (Scotland); 4 19.05 Elizabeth Yelling (Bedford & County AC); 5 Susan Partridge (Scotland);
Senior Men: 1 29.01 Chris Thompson (Aldershot & Farnham District)