Paula Radcliffe, GBR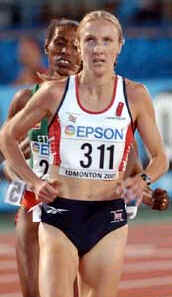 Read Olga Yegorova's Story
"The fight against illegal drug-taking is really important for two reasons:
1. I believe athletes deserve the right to know they are competing on a level playing field, and
2. They should be able to prove their performances are fair and clean."
PAULA RADCLIFFE, MBE
Paula Radcliffe is Britain's leading anti-drug campaigner on the track. She openly protests about the use of drugs in sport, and has helped the IAAF to tighten up on anti-doping legislations.
Radcliffe backs the International Association of Athletic Federation's (IAAF) decision to undertake random out-of-competition testing for the drug EPO.
The captain of the British women's team has campaigned vigorously for random testing for the banned drug.
Her campaign reached a crescendo when she held up a homemade banner in protest at Olga Yegorova's appearance in the 5,000 metres at the 2001 World Athletics Championships in Edmonton. The Russian went on to win the title despite having failed an EPO test the previous July in the Paris Grand Prix.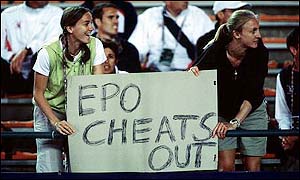 Radcliffe's protest caused a lot of embarrassment for the IAAF, who invited the runner to their headquarters in Monaco to discuss the issue with its drug advisory committee.
Radcliffe said: "I don't regret for one moment what I did in Edmonton. I wasn't seeking personal publicity. I was making a stand to root out EPO from athletics. I only wish more athletes had joined the protest. They assured me, though, that they were determined to take positive action as quickly as possible."
Sydney 2000 Olympics - As Radcliffe spoke, her red ribbon reminded all who asked the questions that the arena remains imperfect: "Improving the tests is very important to me. We now have blood tests and we're doing better. I've made my protest and I don't need to carry it into the race, but the blood tests are not effective enough. That will be shown by the fact that there are no EPO positives at these Olympics. We also need to work on coming up with a test for human growth hormones."
In March, 2002, the IAAF announced out-of-competition testing for EPO - and Radcliffe was delighted.
"I see this as only a first step," Radcliffe said. "Now they have to start tackling those who are using growth hormones and other substances."
"In the past they knew when they were competing so would stop using EPO well in advance of their races, which made testing futile. Now those who continue using EPO will be wary of the knock on the door."
November 2002 -
"World marathon record holder Paula Radcliffe has undergone seven of the 123 EPO tests carried out under the auspices of the International Association of Athletic Federations (IAAF) this year. The staunchest critic of drug misuse of any sports personality in the world, Radcliffe has waged a public campaign against cheats since 1999 and willingly submits herself to the expensive testing procedure as often as possible.
"I'm not surprised she's top of the list," said David Moorcroft, chief executive of UK Athletics. "Paula jumps at every opportunity to be tested knowing it will highlight her anti-drugs stance."
Before setting the new world record mark of two hours 17 minutes and 18 seconds in the Chicago marathon last month, Radcliffe insisted at the pre-race press conference she be tested for EPO after learning the five other top names sitting alongside her were to undergo the procedure.
Initially, the World Anti-Doping Agency (WADA), acting on behalf of the IAAF, refused Radcliffe's request and pointed out she had undergone an out-of-competition test only a couple of days before leaving her Loughborough home for the Windy City race. But Radcliffe immediately rang the IAAF in Monaco telling them she would pay out of her own pocket to be tested. After trying to persuade her it was not necessary, they finally bowed to her wishes."
In 2003, an anti-doping test was developed for the steroid THG, and many athletes tested positive. Radcliffe, added her voice to calls that any athlete found guilty of taking THG should be banned for life rather than for the current two years.
She said: "By using it, they have been cheating the system and have been guilty of deliberate fraud."
"They've robbed people of championship places and cheated on their fellow competitors."
"Anyone who is found guilty of using THG should be banned for life. Next year's Olympics may be missing some big names. But Athens could well be the cleanest Games for years.''