Paula Radcliffe, gbr
| | |
| --- | --- |
| Full Name: | Paula Jane Radcliffe |
| Born: | 17/12/1973 (Northwich, Cheshire) |
| Age: | 30 |
| Sex: | Female |
| Lives: | Leicester (she has two houses in the Midlands) , an apartment Fort Romeu, France, and lives for a portion of the year in Albuquerque New Mexico. |
| Marital Status: | Married to Gary Lough |
| Height: | 1.73m |
| Weight: | 54kg |
| Event: | Long Distance |
| Club: | Bedford & County AC |
| Coach: | Alex & Rosemary Stanton |
| Manager: | Gary Lough (also husband) |
| University: | Loughborough |
| Qualifications: | First Class Honours BA European Studies (Loughborough) 1996 |
| Sponsors: | Nike, Cadburys |
| Languages: | Speaks French and German fluently and keeps her hand in by doing translations for the athletics world governing body |
| Medical: | Asthmatic |
| Other: | Left-handed |
| Family: | Great-Aunt Charlotte Radcliffe won an Olympic silver swimming medal at 4x100m freestyle relay in Antwerp 1920. |
London Marathon 03
Personal Bests:
| | | | | |
| --- | --- | --- | --- | --- |
| Mar* | 2:15.25 | WR | 13 Apr 2003 | London |
| | | | | |
| --- | --- | --- | --- | --- |
| 10km | 30:01.09 | CR | 6 Aug 2002 | Munich, GER |
| 10kR*** | 30:21 | | 23 Feb 2003 | San Juan, PUR |
| 400m | 58.9 | | 1992 | |
| 800m | 2:05.22 | | 16 Jul 1995 | Birmingham |
| 1km | 2:47.17 | | 24 Jul 1993 | Bedford |
| 1500m | 4:05.37 | | 1 Jul 2001 | Glasgow (S) |
| 1Mile | 4:24.94 | | 14 Aug 1996 | Zurich, SUI |
| 2km | 5:37.01 | + | 19 Jul 2002 | Monaco, MON |
| 3km | 8:22.20 | CR | 19 Jul 2003 | Monaco, MON |
| 2Mile | 9:32.07 | | 23 May 1999 | Loughborough |
| 2Mile | 9:27.5 | | 1997 | Brussels, BEL |
| 5km | 14:31.42 | CR | 28 Jul 2002 | Manchester |
| 5MR**** | 24:47 | | 24 Apr 1999 | Balmoral |
| 15kR | 49:06 | | 13 Oct 2002 | Chicago, USA |
| 10MR | 51:41 | + | 22 Oct 2000 | South Shields |
| HMar** | 66:47 | ER | 7 Oct 2001 | Bristol |
| 20kR | 64:28 | | 13 Apr 2003 | London |
| 30kR | 1:36.36 | +WR | 13 Apr 2003 | London |
| 20MR | 1:43.33 | +WR | 13 Apr 2003 | London |
Commitment is written across her forehead and laced in her ethics. "I train hard, it is more than a full time job."
What makes Paula so great?
Paula has huge lungs let her consume vast amounts of oxygen. Her heart, twice the size of an average female's pumps oxygen to her muscles packed with energy releasing cells. So she can run very fast for a very long time.
Paula Radcliffe currently holds an amazing ten world records including the marathon over 26.2 miles.
Sport and You - Paula Radcliffe
Training
She achieves this by training very hard. She runs 150 miles every week.
"When I'm training things that go through my mind are everyday things. If I'm out on a run I might be thinking things like, 'what shall I have for dinner or what's going to happen in EastEnders' - anything really. In a marathon race then other mind games come into play to keep my concentration, speed and tempo moving. That's when I start to count to myself I know that if I count to 100 three times then that's usually about a mile for me at marathon pace."
Biography and Race biography
Paula has compiled a most distinguished record as Britain's top distance runner, setting British records at 5000m, 10,000m, 3000m, 30km, 20 miles, half marathon and marathon. She married Gary Lough (best of 3:34.76 for the 1500m during the IAAF Grand Prix Final in 1995) on April 15 2000. Nowadays he manages Paula, he runs in a non-competitive manner.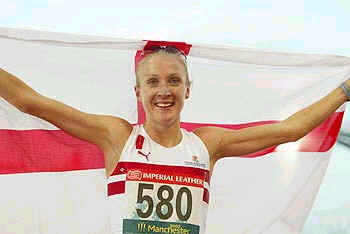 Born in a blizzard, and having won the world junior title in a Boston snowstorm, Radcliffe claims an affinity for arduous conditions.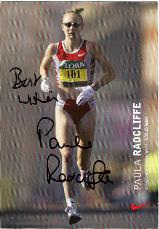 Overseas training
"The track in Albuquerque is deserted, it is a high school track and the hour calls for morning assembly. A small group of athletes arrive, they are lithe, fit and fueled by ambition. They are here to work hard, there is little talk. The high altitude makes running tough, there is one woman in the group with asthma, for her it will be especially hard. The hot morning sun offers no remission.
The workout begins, lap after lap. The girl stays with the men. Her head is rocking violently from side to side, she groans out load to hold the torturous pace. But she keeps the pace. Each interval ends with the girl lunging to the track, and she looks as though she can not start the next repeat, but she does. This is not an office job, it is pain, sweat and hard labour. This is Paula's domain." - NYSportsGirl
What is the hardest part of Paula's training? There is a big hill near her French apartment that takes ten minutes to climb, Paula runs this hill as part of her long run and, in her words, "It kills!" - NYSportsGirl
Paula's Junior Achievements
"My father was a Marathoner (he ran 3:30) and when I was a young girl he would take me to the woods and let me run cross country races. I loved to run."
"My earliest memories of running started at school where I just felt really free when I was running. It was something I really got a buzz out of. I remember going down to watch my father run in the London Marathon when I was 10 or 11. I saw Ingrid Christiansen go past in the women's race and I thought, 'I'd love to run that, I'd love to be part of the whole atmosphere that is the London Marathon.'"
Many of Paula's successes have been in cross-country.
"I remember when I ran my first National Cross Country race finishing 299th I was determined to come back and do better the next year. So I stopped going to judo and went to the athletics club twice a week. "
In a sport totally dominated by African runners young Paula won the World Junior Cross Country Championships in Boston, 1992 over Wang Junxia (in a snowstorm!).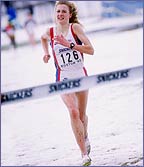 Returning to her school, in Bedford, England, she revealed her goal, "I want to win a Senior World Championship title."
The young girl stands in front of her school friends. She has just achieved more than most can ever imagine. This young girl has direction, drive, and desire. She is not satisfied, life does not stand still. If you want to live, move forward. She stepped up her training.
After showing herself to be a strong senior in her early international career in 1993, she missed the 1994 season through injury, but came back to place 5th at the 1995 Worlds and 1996 Olympics, and move up to 4th at the 1997 Worlds, all at 5000m.
She won the European cross-country title on her comeback from the illness that had affected her track form at the championships in 1998. She also won the 5th Avenue (road) Mile in New York in 1996 and 1997 and was 3rd in the IAAF World Cross Challenge series in 1997.
1994
Paula won the IAAF World Cross Challenge in Mallusk.
Paula won the Cross-Country Championship in Blackburn.
Paula won the British Cross-Country Championship in Northumberland.
1995
Paula won the Paulen Memorial 5000m in Hengelo.
She was 2nd in the KP Games 5000m at Crystal Palace.
Paula came 5th in the IAAF World Championships 5000m in Gothenburg.
1996
Paula won the IAAF Cross Challenge in Durham.
Paula won the IAAF Cross Challenge in Mallusk.
Paula was 5th in the Olympic 5000m in Atlanta.
Paula in Atlanta
Paula won the Fifth Avenue Mile in New York.
1997
Paula was 2nd in the IAAF World Cross Country Championships in Turin.
Paula won the Crescent City Classic 10k in New Orleans.
Paula was 4th in the IAAF World Championship 5000m in Athens.
Paula was 3rd in the IAAF Grand Prix Final in Fukuoka.
Paula won the Fifth Avenue Mile in New York.
1998
Paula was 2nd in IAAF World Cross Country Championships in Marrakesh, and 2nd in the European track Challenge in Lisbon.
She set a world road best for 5 miles at 24:54 in 1998 in Balmoral, and reduced that time to 24:47, and also set a world best at 8km in 24:38.
She set a British record for 2 miles in the Loughborough International.
Paula won the European Cross-Country Championships in Ferara.
She made the fastest ever track debut for 10,000m when 2nd in 1998 European Challenge in 30:48.58.
Paula had a brilliant win in the European Cup at 5,000m, when her 14:48.79 was just three seconds off her UK record. She broke that with 14:43.54 when 2nd at the British Grand Prix. In Zürich she took Zola Budd's 14-year-old Commonwealth record at 3000m.
Then came one of the greatest runs ever seen, as she forced the pace throughout, despite searing heat in Seville; she was passed on the last lap by Gete Wami, but won a glorious silver medal in the World Championships in a new Commonwealth 10,000m record time of 30:27.13.
1999
Paula was 3rd in the IAAF World Cross-Country Championships in Belfast.
She took nearly eight seconds off her Commonwealth record for 10,000m when winning the European Challenge race at Bilbao, Barakaldo, Spain in 30:40.70 by a minute from many of Europe's best.
Paula won the Compaq 5 miles (World best) in Balmoral.
Paula was 2nd at the IAAF World Championships 10,000m in Seville.
Paula in Seville
Paula was 3rd in the BUPA Great North Run in South Shields, Manchester.
She was elected as British Female Athlete of the Year in 1999.
2000
She used front-running tactics in the 10,000m at the Olympic Games in Sydney, but despite a wonderful effort ended up a disappointed fourth in 30:26.97, although that was another British and Commonwealth record.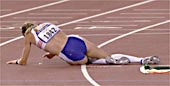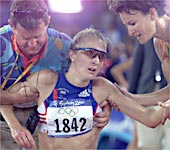 Ranked in the world's elite on the track at 3000m, 5000m and 10,000m, she followed that with brilliant form on the roads, first a win in the Loughrea 5 miles in 25:04, beating Sonia O'Sullivan by over two minutes, then a European half marathon record 67:07 to win the Great North Run, three minutes ahead of Tegla Loroupe, and a win by 33 seconds in 69:07 the World Half marathon Championships. The latter was a magnificent performance in the heat and high humidity of Veracruz, Mexico.
2001
In 2001 she realised her dream by winning the World Cross-country title at Ostend after a thrilling race against Gete Wami. The Ethiopian came back to pip her the following day in the 4km race, but Radcliffe had won the one that mattered most by responding to Wami's challenge and out-sprinting her to the line.
Despite strong wind she had an outstanding win in the European Challenge in 30:55.80, and was then second to Wami in the Balmoral 5 Miles road race.
In June she won the 10km road race in New York in 30:47, just 8 seconds short of Liz McColgan's world road best, but had to yield to a brilliant run by Yelena Zadorozhnaya in the European Cup 5000m although still running a fine time of 14:49.84. She followed that with a British and Commonwealth record 8:26.97 when 5th in the Rome 3000m and a personal best 4:05.37 two days later over 1500m at Glasgow.
She missed her 5000m British record by just 0.67 secs when she won at the British Grand Prix in 14:44.21 and ran bravely at the World Championship 10,000m in Edmonton but was out-kicked by three Ethiopians to place 4th in 31:50.06.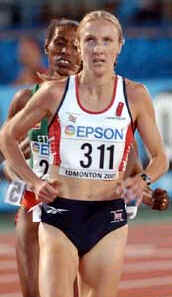 However, Paula will be remembered at Edmonton for the day that her anti-doping campaign reached a cresendo when she held up a homemade banner in protest at Olga Yegorova's appearance in the 5,000 metres at the 2001 World Athletics Championships in Edmonton. The Russian went on to win the title despite having failed an EPO test the previous July in the Paris Grand Prix.
Radcliffe's protest caused a lot of embarrassment for the IAAF, who invited the runner to their headquarters in Monaco to discuss the issue with its drug advisory committee.
Radcliffe said: "I don't regret for one moment what I did in Edmonton. I wasn't seeking personal publicity. I was making a stand to root out EPO from athletics. I only wish more athletes had joined the protest. They assured me, though, that they were determined to take positive action as quickly as possible."
After 6th over 3000m in 8:32.02 in Brussels, she smashed her British and Commonwealth records for 5000m with 14:32.44 behind Olga Yegorova and Wami in Berlin, and two days later equalled the world road best for 5km with a 14:57 win in Hyde Park, London.
Paula retained her World Half Marathon title, improving her European record to 66:47 in Bristol.
She was elected as British Female Athlete of the Year.
2002
She won gold in the Milan Cross-country, and then ran an extraordinary 30:43 to win the 'World's Best' road 10km in San Juan, Puerto Rico: the world-class field was left far behind. She then retained her world cross-country title, winning by nine seconds at Dublin.
World x-c, Dublin
In April her marathon debut in London she produced surely the greatest ever run by a woman at the distance, missing the world record of Catherine Ndereba (who was helped by male pacemakers) by nine seconds. She ran 2:18:56, the second fastest ever run, over three minutes faster than the previous best in a women's only race and over four minutes better than the previous fastest debut marathon.
After her weekend success she could well be looking to step up to the longer distance in her search for Olympic glory.
"I always said that after the London Marathon we would sit down and think of which one for Athens," Radcliffe told BBC Breakfast. But Radcliffe gave a hint that victory in London had swung her towards selecting that event for the 2004 Games.
"It maybe points it a bit towards the marathon," she added. "We will have to decide which will be my best chance for a gold medal."
Despite her sensational victory over what was considered the strongest field ever assembled, Radcliffe said she was slightly disappointed not to have broken the world record. The double world half-marathon winner finished in two hours, 18 minutes, 56 seconds. That was just nine seconds outside the time Japan's Catherine Ndereba ran last October in Chicago to set a new world best.
"Really, my only aim here was to win the race, and with the clock on the lead car not working it didn't really enter my mind until too late," she said. "I didn't know how close I was to the world record until the last 800 metres - I was stupid. I was wearing my watch and should have looked at it. But I've got no complaints. Maybe it will be better to try when I am more mentally prepared in the future."
Running on her own, she ran the second half marathon in 67:52, a time bettered by only 12 women at that distance alone.
She started her track season late but made a wondrous seasonal debut as she took 4.77 secs off her British and Commonwealth records for 3000m in 2nd to Gabriela Szabo at Monaco on 19 July.
Then came her triumphs at the Commonwealth Games, where she destroyed the field in lowering her 5,000m Commonwealth record to 14:31.42.
She ran an astonishing European 10,000m record 30:01.09 (2nd on the World List) in Munich, where she ran in pouring rain and had to run wide to pass lapped runners time after time. She finished 46.5 seconds ahead of silver medallist Sonia O'Sullivan.
She broke the UK 10km road record when a clear winner in 30:38 on a hilly course in Richmond Park in September.
Then came the Chicago marathon, when despite windy conditions, which might have cost her 30 seconds, she nonetheless smashed the world record by 1min 29 seconds to win in 2:17:18.
She was elected as British Female Athlete of the Year, and was awarded the MBE in June. She was the IAAF World female Athlete of the Year, and the BBC Sports Personality of the Year. Radcliffe was a clear winner with a total of 619,577 votes. Beckham polled 113,539 and McCoy 87,972. She was also voted 'Lefty of the year 2002'.

2003
Paula set a world record for 10km on the roads with a superb win in San Juan, Puerto Rico in 30:21 on 23 February.
In April, 2003, Paula smashed her own World Marathon Record by 1 minute and 53 seconds with a time of 2:15.25 in London, and set world bests en route at 30km (1:36:36, compared to the initial IAAF mark of 1:39:02) and 20 miles (1:43:33). She went through 10km in 32:01 and halfway in 68:02, before a second half marathon of 67:23.
Paula passes her pace maker...... and is hot on the heels of the second!
At 22 miles
Crossing the line, and celebrations
"Paula Raises the Marathon Standard"
Paula at the Laureus Sports Awards 2003.
A leg injury, followed by bronchitis and tonsillitis, have prevented her competing on the track and she had to withdraw from the World Championship team.
Paula set a GB best time for the 10km at Richmond Park in September. Radcliffe, making her first competitive appearance since breaking the world record in the London marathon in April, was beaten by only six men as she crossed the finishing line in 30 minutes 51 seconds. Radcliffe's time was significantly slower than the UK all-comers record of 30:38 last year and the world record of 30:21 she set in Puerto Rico in February. Molesey's Sonia O'Sullivan was the second women in 33:09 and Charlotte Dale, a student at St Mary's University College, Twickenham, third in 33:53. Radcliffe, who ran an impressively even-paced race, passed the 5km point in 15:26. Relief It was a welcome relief for Radcliffe, who missed last month's World Championships in Paris because of bronchitis and shin trouble.
After the race, her voice was still croaking from the effects of altitude training in the French Pyrenees, Radcliffe said: "It's just great to be back.
"The main thing for me was to have some enjoyment from racing again. I enjoyed it, but it was tough." The race was run in the opposite direction to last year.
Radcliffe said: "It was tougher this way round with a long drag between 5km and 7km," she said, referring to the gradual uphill stretch from Kingston Gate.
| | |
| --- | --- |
| | |
| | |
| | |
| | Richmond Park 10km |
| | |
| Paula signs autographs after | Paula signs autographs after |
She then took the Flora Light Challenge title the following weekend (14th September) in Hyde Park, where she ran a World Best time of 14:51.
| | |
| --- | --- |
| | |
| | Paula after |
| Paula after | Flora Light Women's Challenge |
She then went on to win the Great North Run on 21st September in a world best time of 1hr 40 min and 5sec.
| | |
| --- | --- |
| | |
| | |
| | |
| | |
| Paula at GNR | Thanks to Getty images for pictures |
| | |
| --- | --- |
| | |
| Paula at GNR | Thanks to Newsround for pictures |
| | |
| --- | --- |
| | |
| | |
| | |
Paula won the 12th IAAF World Half-marathon championships on 4th October in Vilamoura, Portugal, but in a slower time than the Great North Run.
| | |
| --- | --- |
| | |
| Paula at World 1/2 Marathon | Thanks to Getty images for pictures |
| | |
| | |
| --- | --- |
| | |
| Paula at World 1/2 Marathon | Thanks to Getty images for pictures |
| | |
| | |
She was defeated for the first time in 16 months in the Ekiden Road Relays in Japan.
"I enjoyed it, it was a good race, there was a lot of support from the crowd and it was a nice course," said Radcliffe, whose 10km time of 30:42 was far slower than her best of 30:01.
"I felt very tired in the last three kilometres, so I didn't run as well as I have to, but the other (English) girls ran well.
"I began to feel very tired in the last three kilometres, so I was struggling, just trying to go when the Kenyan girl Lucy Wangui went away, but I was unable to stay with her," added Radcliffe.
In tests on her return Paula discovered that her magnesium levels were low. "It was playing on my mind because I felt terrible in that race," she said. "So I was having doubts. It's a relief to put it behind me."


This, however, did not prevent her from taking the European cross-country title convincingly in December in Edinburgh. As Gary Lough sprayed her with oil before the off to insulate her from the chill, there was no hint of the drama that had gone on as the team warmed up.
"Paula only confirmed she was running 10 minutes before the start," Lough revealed, and afterwards the 29-year-old Radcliffe confirmed that this had been no routine success.
"I caught a bad cold, and was a bit worried all week, for I knew that it would be tough," she said. "I thought I'd thrown it off, but the plane journey did not help, and then after that very hot room at the press conference, I felt really rotten. My legs felt crappy, and I decided to warm up, and if I felt really bad I would not have run."
Abeylegesse ensured she had to work for it. The tiny 21-year-old used Radcliffe as a shelter against the wind for much of the race and it was only when they were going up Haggis Knowe for the final time, 800 metres from the end of the 6,595m course, that she cracked. Radcliffe, who won in a time of 22:04, was at the front from the start had to see off a strong challenge Abeylegesse and it wasn't until just before Haggis Knowe on the fourth lap that she was able to shake her off.
"The plan was to take it steady in the early part of he race, because I knew Elvan would be a big danger," added Radcliffe. "I have a lot of respect for her. She was in good shape, and I knew I had to be 100%. I didn't want to leave it until the last 200 metres."
Even then there was a drama as Radcliffe twisted her ankle at the bottom of the hill and felt faint at the top - due to how much she had put into her effort - before regaining her composure to go on and win by 9 seconds.
"I didn't feel great on the hill on the last lap," she said. "I jarred my ankle at the bottom, which made me sprint to the top, and I felt a bit light-headed. On that last hill I didn't know how much of a gap I had. I then went a bit harder than I maybe should have."
Her husband was one of thousands who encouraged her, racing anxiously from point to point on a course ideal for spectators, but he ran into a tree and badly skinned his nose. As Paula collected the Christmas present which she wanted, Gary looked like Rudolph!
Paula in the race:
| | | |
| --- | --- | --- |
| | | |
| | | |
| | | |
| | | |
The GB team also managed to snatch the team gold for the first time in history!
"It's a brilliant result to win the team title. We've had good teams in the past, and failed. It's fabulous."

The Team Victory:
Later on the same evening (Dec 14th), Paula took 3rd prize in the BBC Sports Personality of the Year, behind two players from the England World Cup winning Rugby team; Johnny Wilkinson and Martin Johnson.
In his acceptance speech for the Golden Sports Personality award, Sir Steve Redgrave said: "I hope that Paula Radcliffe, who had my vote, will hopefully go on to bigger and better things next year and win that Olympic gold she deserves."
| | | |
| --- | --- | --- |
| | | |
| Johnny Wilkinson | Martin Johnson | Sir Steve Redgrave |
2004
Paula Radcliffe is currently having her fitness assessed by her medical team after her second place finish in 'The World's Best 10km' in Puerto Rico on Sunday 29 February, when she was was outsprinted by Lornah Kiplagat.
Paula has asked to be considered for selection for both the 8km and 4km races for the World Cross-Country in Brussels. Radcliffe, who has twice won World long course titles, will decide nearer the time whether to contest either or both races.
Radcliffe has been included by Great Britain for both the 8km and 4km races at the event in Brussels. The European champion has recently suffered a virus but is expected to run over both distances.
Paula Radcliffe has pulled out of this weekend's IAAF World Cross-Country Championships after injuring her right hamstring in training. Radcliffe had been hoping to bounce back to form, but on Thursday she said: "I went for my usual long run on Sunday morning and everything was okay. Then in the evening I went for a light run and felt a stiffening in my hamstring and knew I needed treatment." Radcliffe underwent treatment at UK Athletics' high-performance centre in Loughborough but failed to rectify the problem. "I found it impossible to run uphill and in a cross-country race there will always be plenty of them," she said. Now it's case of getting back into training. That should be shortly as it isn't a serious injury."
The minor problem has responded well to treatment but has not recovered sufficiently to allow Radcliffe to cope with racing on a demanding cross country course this weekend.
Radcliffe said: "I am really disappointed to have to withdraw as training has gone really well and I was looking forward to racing well in Brussels."
The more energetic spectators might find themselves alongside world record-holder Paula Radcliffe (Bedford and County AC) as they follow the Flora London Marathon on Sunday 18 April.
For rather than bid for a third successive victory, Radcliffe is planning to spend the morning, like thousands of others, urging on a family member raising money for charity – brother Martin – before going off-road for a two-hour training run.
She revealed her plans when she met members of the British Athletics Writers Association on Friday 16 April to explain what she has been doing since a hamstring injury forced her to withdraw from the Norwich Union Great Britain and Northern Ireland Team which won Bronze medals in the Senior Women's 8km race at the IAAF World Cross Country Championships in Brussels on 20 March.
The injury was, she said, "a blessing in disguise". For when she went to physiotherapist Gerard Hartmann in Limerick, his typically thorough treatment included a cross examination as to what had caused the injury.
"I hadn't slipped or anything in training and it isn't something that shouldn't happen on a steady run," Radcliffe explained. "So I went for a check-up scan and we found I had a small hernia."
Within 24 hours of the discovery, she was in Munich on 24 March for an operation to repair the tear.
"We're looking at it as a blessing in disguise," she added, "because the weakness had probably been there for a while and was causing other problems. It was affecting the strength of other muscles and the surgeon said it would have caused further injuries.
"Now it is stronger than before and I take confidence from the fact that I'd been training so well despite it. I've now been back running three weeks and everything is normal."
Junior Cross-country Titles:
1992 -

Gold

World Junior Championships
Senior Cross-country Titles:
1997 -

Bronze

IAAF World Cross Challenge series

1998 - Gold European Championships

2001 - Gold World Championships, Ostend

- Silver World Championships 4km, Ostend

- Gold European Challenge, 30:55.80

2002 - Gold Milan Cross-country

- Gold World Championships, Dublin

2003 - Gold European Championships, Edinburgh
3,000m Titles:
1998 -

Gold

(Commonwealth Record)

2001 - 5th, 8:26.97, Rome (NR & Commonwealth Record)

- 6th, 8:32.02, Brussels

2002(July) - Silver, Monaco (NR & Commonwealth Record)

5,000m Titles:
1995 -

5th

World Championships

1996 - 5th Olympic Games

1997 - 4th World Championships

1998 - Gold European Cup, 14:48.79

- Silver British Grand Prix, 14:43.54 (NR***)

2001- Silver European Cup, 14:49.84

- Gold British Grand Prix, 14:44.21

- Bronze Berlin, 14:32.44 (NR& Commonwealth R)

2002 - Gold Commonwealth Games, 14:31.42 (NR& Commonwealth R)

1,500m Titles:
2001-

Unknown

Glasgow, 4:05.37, ( Personal Best (PB)
10,000m Titles:
1998 -

Silver

European Challenge, 30:48.58

- Silver Seville 30:27.13 (Commonwealth Record)

1999 - Gold European Challenge, 30:40.70, Spain

2000 - 4th Olympic Games, 30:26.97, Sydney (NR, Commonwealth R)

2001 - 4th World Championships, 31:50.06, Edmonton

2002 - Gold Munich, 30:01.09, (ER* & Commonwealth R)
Half Marathon Titles:
2000 -

Gold

, Great North Run, 67:07 (ER*)

- Gold, World Half marathon, Mexico

2000 - Gold, World Half marathon, Bristol, 66:47 (ER*)

2002 - Gold 67:52
Marathon Titles:
2002 - April - London,

Gold

2:18:56 (WL V*** - 2nd)

- October - Chicago, Gold 2:17:18 (WR**)

2003 - 13 April - London, Gold 2:15.25 (WR**)

World Best road Titles:
2 miles:

1998 - Gold (NR***), Loughborough.

5 miles:

1998 - Gold 24:54 (WMR (v*), Balmoral

2000 - Gold 25:04, Loughrea

2001 - Silver, Balmoral

5km:

2001 - Gold 14:57 (WkR (v**), London

2003 - Gold 14:51 (WkR (v**), Hyde Park, London

8km:

1998 - Gold 24:38 (WkR (v**)

10km:

2001(June) - Gold 30:47, New York

2002 - Gold 'World's Best' road 10km, 30:43, Puerto Rico

- (September) Gold Richmond Park, 30:38 (NR)

2003 (February) - Gold Puerto Rico, 30.21
* (ER) European Record
** (WR) World Record
*** (NR) National (UK) Record
**** (CR) Championship Record
v* (WMR) World Best road record (miles)
v** (WkR) World best road record (km)
V*** (WL) World List
* Marathon
** Half Marathon
kR*** Kilometre road
MR**** Mile road
"Paula Raises the Marathon Standard"
Sport and You - Paula Radcliffe
About this athlete and anti-doping
Back to About the Athletes Home